Amniotic Membrane for Wound Care
Amniotic Membrane – Insurance-Covered Wound Care Treatment
Amniotic membrane has been used in wound care for almost a century and is now covered by some insurance companies. Wound care accounts for significant medical spending, but amniotic membrane allograft technology may reduce that burden. Amniotic tissue has been shown to improve the healing of various wound types. Diabetic foot ulcers are among the most prevalent and complex wounds to heal. Amniotic wound care has shown promising results and could revolutionize wound care.
What is Amniotic Membrane?

The amniotic membrane is a strong physical barrier that regulates the transport of nutrients and water and contains high levels of bioactive molecules that allow it to remain metabolically active to remodel and grow along with the fetus. The amnion layer comprises epithelial cells attached to dense, collagen-based tissue and sits closest to the fetus. The chorion layer is significantly thicker than the amnion layer, and it is made mainly from collagen and a fibrous matrix. The amniotic membrane surrounds and protects the developing fetus in utero and separates the mother and fetus. The amniotic membrane has three types of material: collagen and extracellular matrix, biologically active cells, and regenerative molecules.
Wound Healing Properties of Amniotic Membrane
The amniotic membrane has several characteristics that make it especially suited to wound healing. This product contains many cytokines and essential growth factors, which reduce pain when applied to a wound. It also enhances wound healing by providing a biological barrier, reducing inflammation, and reducing scar tissue formation. In addition, it has antibacterial properties that make it safe for use on wounds.
Common Types of Chronic Wounds
Diabetes and wound healing:
Diabetes is a chronic disease that can damage blood vessels and nerves. This can lead to wounds on the feet that are hard to heal.
34.2 MILLION AMERICANS ARE LIVING WITH DIABETES
25% OF PEOPLE WITH DIABETES WILL EXPERIENCE A FOOT ULCER
80% OF LOWER EXTREMITY AMPUTATIONS ARE PRECEDED BY A FOOT ULCER
HEART HEALTH AND WOUND HEALING:
The heart is responsible for delivering oxygen-rich blood throughout the body. Issues with the heart can hinder blood flow and oxygen delivery to wounds, which can delay healing.
VASCULAR DISEASE AND WOUND HEALING:
One of the primary vascular diseases is Peripheral Arterial Disease (PAD). PAD is a narrowing or blockage of the blood vessels in the legs. This decreased blood flow can affect the skin's health on the feet and legs, as well as delay wound healing.
MALIGNANT AND ATYPICAL WOUNDS
What is a malignant wound?
Many cancers can cause skin ulcers. These ulcers are called malignant ulcers or cancerous ulcers. Some chronic wounds can turn into cancerous ulcers. These include burns, radiation, and venous wounds.
7M AMERICANS AFFECTED BY CHRONIC WOUNDS
800K+ AMERICANS HAVE A VENOUS ULCER RIGHT NOW
WHAT IS AN ATYPICAL WOUND?
An untreated disease may cause an atypical wound that doesn't appear chronic but may not heal with the usual treatment. These may be atypical wounds.
COMMON TYPES OF CHRONIC WOUNDS
DIABETIC FOOT ULCER

Typically occurs on the feet, heel, or toes
Often, there is little to the ulcer itself
The skin on the legs and feet may be dry and flaky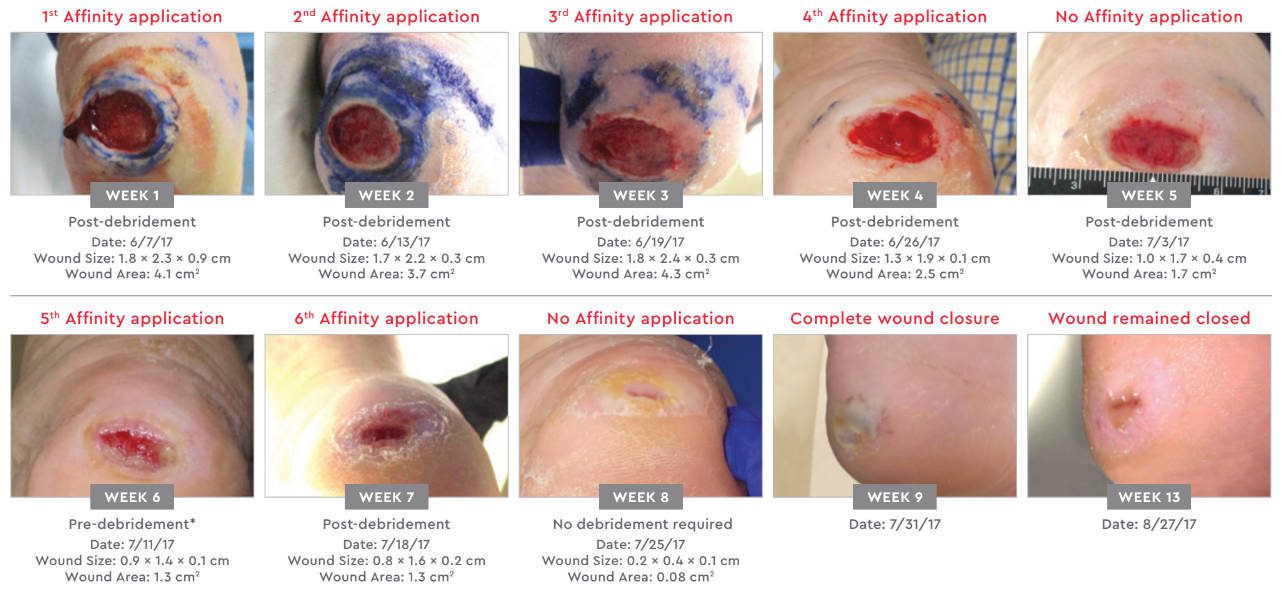 ARTERIAL OR ISCHEMIC ULCER

Leg pain may worsen when the leg is elevated
Shiny or tight, hairless skin
Skin that is cool or cold to the touch
Minimum drainage from the wound
A round wound with even edges or the look of being punched out

VENOUS OR STASIS ULCER

Leg pain or achiness
Swelling in the leg, especially at the end of the day
Discolored skin in the area above the ankle
Moderate to heavy drainage from the wound

PRESSURE ULCER

Most commonly found over a bony prominence
Ulcers begin as pressure injuries with non-blanchable redness
If untreated, subcutaneous fat becomes visible
Continued tissue loss leads to exposed muscle, tendon, or bone
Why is wound care so important?
Wound care is essential because chronic wounds can cause problems. Non-healing wounds need special care because something is preventing the wound from healing. If a chronic wound is not treated, it could get infected or cause other complications.
Why Use Amniotic Membrane in Wound Care?
Which injuries can heal with Amniotic Membrane? In the past, it was only employed to treat burns; presently, it has a much wider range of applications. Remember that traditional methods should be tried before resorting to this option; Amniotic Membrane is suitable for chronic wounds that do not show improvement otherwise.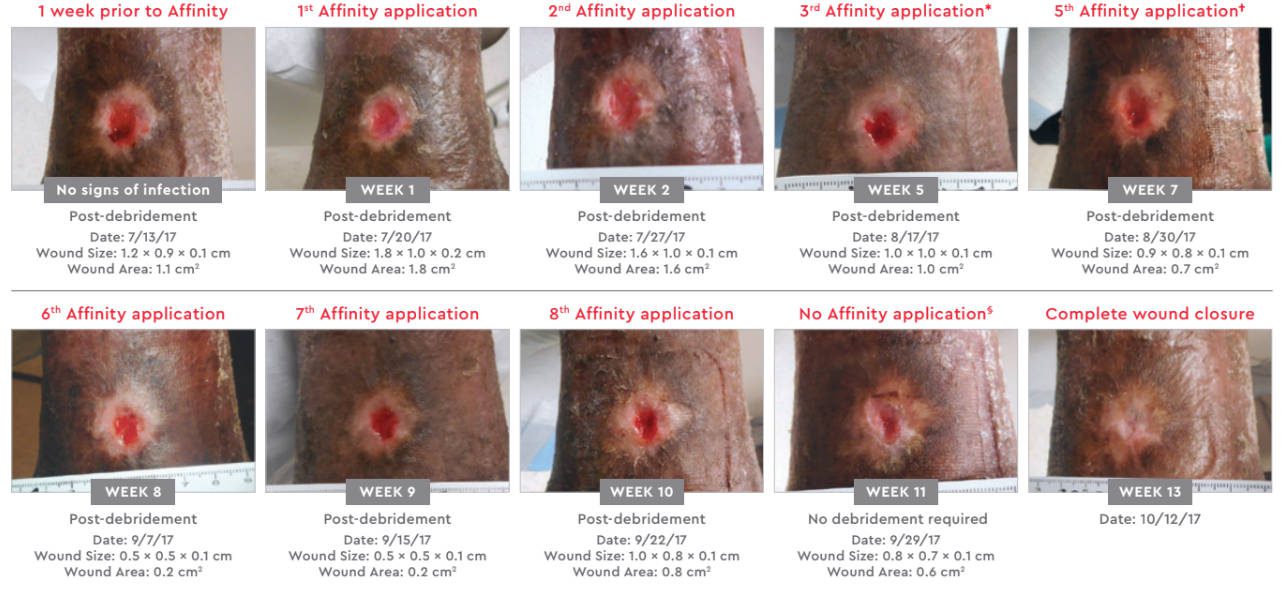 Accelerated Epithelialization
Wound care aims to prevent chronic wounds and treat existing ones. Amniotic membrane has been found to be an effective treatment in accelerating the healing process. It helps start the healing response and provides a flexible place for cells to migrate and grow rapidly. This speeds up the epithelialization process and allows complex wounds to heal properly using Amniotic Membrane.
‍Fibrosis Prevention
Wound fibrosis results in permanent scar tissue forming to replace the normal parenchymal tissue, thereby altering the structure and function of tissues and organs. Preventing fibrosis is not only aesthetically important but also vital for preserving the skin's barrier function. An amniotic membrane allograft provides a protective biological barrier to the wound that prevents infection during healing while simultaneously creating an anti-bacterial layer.
‍Pain Relief
The amniotic membrane has pain-relieving properties, which can help reduce patient discomfort. It is effective in preventing friction between the eyelid and eye surface, and it has been shown to require fewer analgesics for patients who have undergone a Caesarian section.
‍Enhanced Graft Tolerance
The amniotic membrane has a low risk of rejection because it contains cytokines and growth factors that stop the body from seeing it as a foreign object. The amniotic membrane also activates anti-inflammatory macrophages and inhibits the production of certain T-cells, reducing the immune response. This ultimately leads to a quicker healing process.

Benefits of Amniotic Membrane for Wound Care
Cost-Effective
Amniotic membranes have repeatedly been proven to be a more successful and cost-effective therapy for wound care than bioengineered skin substitutes or standard treatments. Within a set time frame, amniotic membranes achieve wound closure significantly more often than other advanced therapies such as BSS. Amniotic Membranes also require fewer grafts per patient, thus making them less expensive in the short and long run.
Easily Prepared
The amniotic membrane can be easily prepared because it can be dehydrated or cryogenically frozen after sterilization This means that it can be stored for longer periods and is easier to access. The amniotic membrane also bonds readily with the wound site, forming a stable fibrin-elastin interface.
‍Widely Available
Dehydrated and cryogenically preserved amniotic membranes have a longer shelf-life than before, making them more accessible to everyone. With this increase in availability, we may see amniotic membranes being used more frequently than other advanced wound care methods. Not only does this decrease the amount of money needed for chronic wound care, but multiple-size options are available for each patient!
The Bottom Line
Wound care is a critical aspect of treatment for many patients. Amniotic membrane offers a new and exciting option for wound care that is more successful and cost-effective than traditional therapies. The amniotic membrane is easy to prepare and apply and can be stored easily. It is also widely available, making it a potential treatment option for many patients.
• Our office is cleaned 24-7 with HEPA filters, Ozone-Ultraviolet Machines & Peroxide
• We are conveniently located less than 5 minutes from downtown Louisville,
next to the Courthouse in Jeffersonville, IN.
What is Amniotic Membrane?
Insurance Covered Wound Care Options You Can Trust
Amniotic Membrane Treatment
Provides an antibacterial biological barrier that enhances healing by reducing inflammation and reducing scar tissue formation.
Antimicrobial Barrier Treatment
Helps manage wounds and control the healing environment. Prevents biofilm from reforming between periodic debridements.
Living Cellular Skin Substitute
Designed to treat diabetic foot ulcers (DFUs) and venous leg ulcers (VLUs). Looks, functions, and responds like healthy skin.
Placental Allograft Treatment
Versatile protective wound covering and barrier. Retains key components to support a favorable healing environment for different of wound types.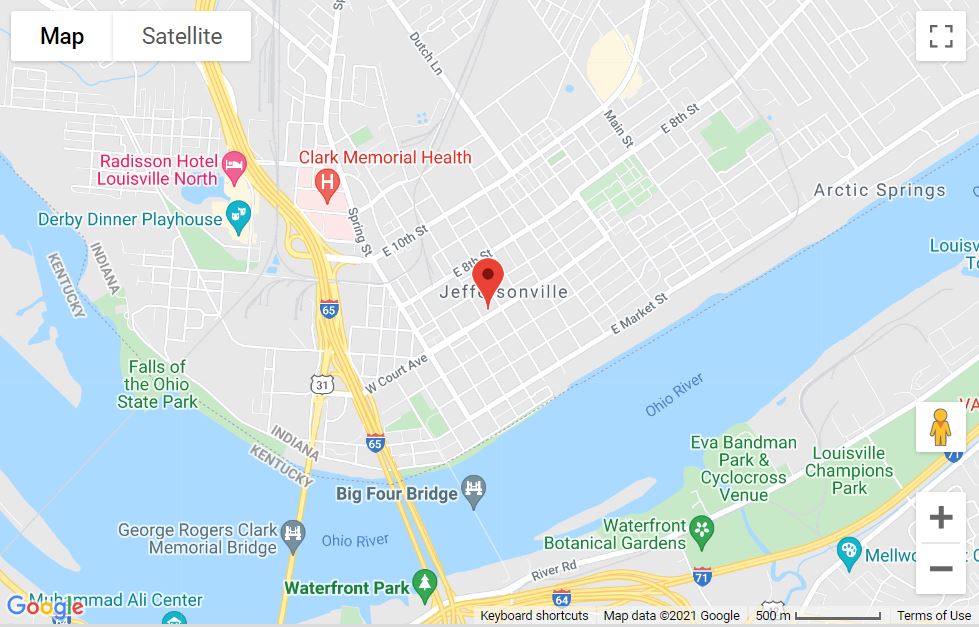 Get the Best Treatment for Your Wounds
We offer the most effective solution to heal chronic wounds. Conveniently located less than 5 minutes from downtown Louisville, next to the Courthouse in Jeffersonville, Indiana